If you're looking to cash in on your Ferrari GTC, you've come to the right place. Selling a high-end Ferrari car can be intimidating and tricky, but selling your GTC can be smooth and profitable if you have the right information and tips. The leading luxury car buyers at Exotic Auto would be honored to help put your car up for sale. With our vast network of connections, we will find the perfect buyer for your wheels. So visit us today to get a reasonable price for your luxury car.
Overview Of Ferrari GTC
The overview of the car contains the detailed info about 
Engine Performance
The Ferrari GTC is powered by a 3.9-liter twin-turbocharged V8 engine that produces an impressive 602 horsepower and 561 lb-ft of torque. This engine is mated to a 7-speed dual-clutch transmission, which provides smooth and responsive shifts. The GTC also features Ferrari's F1-Trac traction control system, which helps to keep the car stable and composed in all driving conditions.
Brakes And Suspension
This four-wheel drive is equipped with Brembo carbon-ceramic brakes, providing excellent stopping power and fade-free performance. The suspension system is an adaptive damping system that can be adjusted to suit the driver's preferences. This system helps keep the car composed and stable in all driving conditions while providing a comfortable ride. The GTC also features a four-wheel steering system, which helps to improve the car's agility and responsiveness.
Aerodynamics Of Car
It is designed with aerodynamics in mind. The Ferrari gtc4lusso features a sleek and low-slung design that helps to reduce drag and improve fuel efficiency. The front of the car features an integrated spoiler that helps direct air away from the wheels, while the rear has an active rear spoiler that can be adjusted depending on driving conditions. 
Interior Design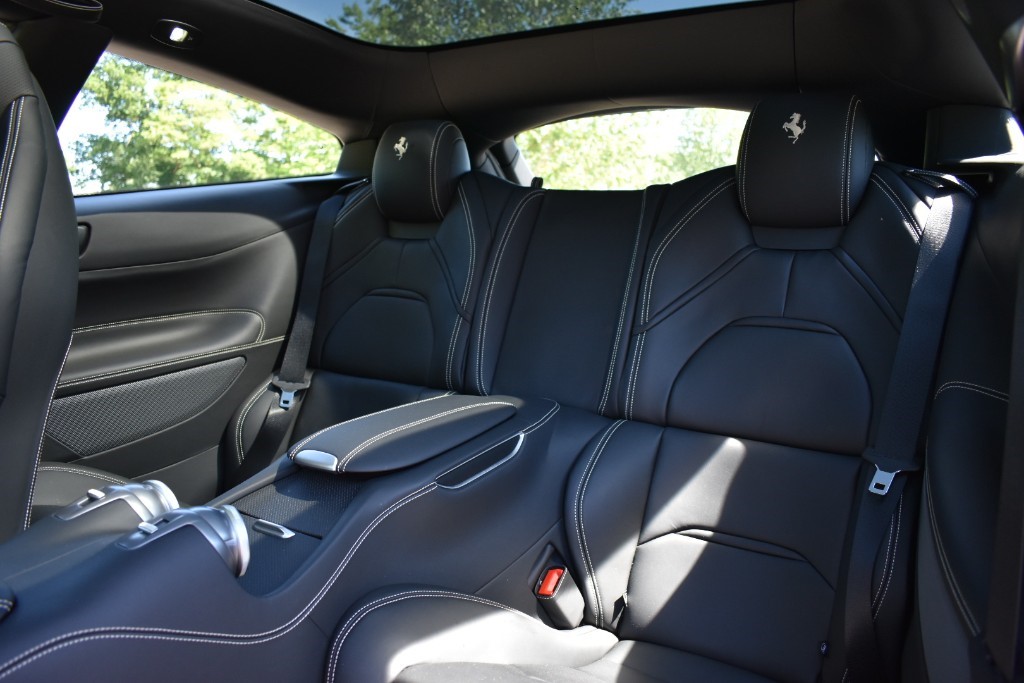 The interior iconic body styles of the Ferrari GTC are as luxurious as it is sporty. The cabin has leather upholstery, carbon fiber trim, and aluminum accents. The seats are comfortable and supportive, while the steering wheel is ergonomically designed for maximum control. The infotainment system includes a 10-inch touchscreen display, navigation, and a premium audio system.
Safety Features
When safety is a priority, the Ferrari GTC has you covered. This vehicle features cutting-edge technologies and features that serve to keep you and your passengers safe on the roads. Its generous airbags, anti-lock brakes, electronic stability control, and lane departure warning are just a few of the extensive safety elements present in this remarkable car.
One of the most exciting technology is the advanced traction control system installed to help achieve optimal levels of stability while driving through various conditions. Add this all up, and you can find yourself behind the wheel with confidence, knowing that the Ferrari GTC takes your safety seriously.
Preparing The Car For Sale
Once you have determined to sell your used Ferrari GTC, some things need to be done to get the best price.
Cleaning And Maintenance
Cleaning and maintenance are essential when preparing your Ferrari GTC for sale. The car's exterior should be thoroughly washed and waxed to remove any accumulated dirt or grime. The interior should also be vacuumed and wiped with a cloth to clear any dust or debris. 
Gathering Important Documents
Previous to today, car info is of immense importance as it shows the record of how you keep the car and in which condition you are selling. When preparing your first Ferrari car for sale, gather all the necessary documents. This includes:
Title and registration

Service records

Receipts for any repairs or modifications

History report

of a normal used car

Safety inspection certificate
These certificates will help to prove that the sports car has been appropriately maintained and is in good condition. If you do not have all these documents, then it's a huge waste to put your strength into the advertisement and finding the potential buyer.
Staging the Car For Photos
Staging the prestige car for photos is an important part of preparing your Ferrari GTC for sale. To make the car look its best, it should be washed and waxed to give it a glossy finish. The interior should also be vacuumed and wiped to remove any dust. Once the car is clean, you can add accessories such as floor mats or seat covers to make it look more appealing.
Marketing The Ferrari GTC
Selling, buying, or trading a car can be challenging. There are many things to consider. Once you have prepared your Ferrari GTC for sale, the next step is to market it. This can be done by following ways,
Online Advertising
Online advertising is a great way to market your Ferrari GTC. You can create ads on social media platforms such as Facebook, Instagram, and Twitter to reach potential buyers. Additionally, you can use search engine optimization (SEO) techniques to ensure that your car appears at the top of search engine results when potential buyers are searching for a Ferrari GTC. 
Networking With Potential Buyers
Networking with potential buyers is another great way to market your Ferrari GTC. You can join online forums and groups related to Ferrari cars or attend car shows and events in your area. This will allow you to meet people interested in buying your car. Additionally, you can reach out to friends and family members who may know someone looking for a Ferrari GTC.
Hosting A Private Viewing
Hosting a private viewing is another great way to market your Ferrari GTC. You can invite potential buyers to come and take a glance at the car in person, allowing them to get a better feel for the vehicle. Additionally, you can answer any questions they may have about the car and provide additional information that may help them make their decision.
Negotiating The Sale
Negotiating the sale of your Ferrari GTC is an important part of the process. Before beginning negotiations, it is important to research the current market value of similar cars.
Setting A Fair Asking Price
When setting a fair asking price for your Ferrari GTC, it is important to consider the car's condition, age, and any modifications made. You should also research similar cars to understand what other sellers ask for their vehicles. Check the price of the Ferrari today, and then sell.
Handling Offers and Counter-Offers
When negotiating the sale of your Ferrari GTC, it is important to be open to offers and counter-offers. You should also be willing to negotiate on the price if necessary. Additionally, you should ensure that all the paperwork is in order before finalizing the sale. 
Closing The Deal
Once you have agreed with the buyer, it is important to ensure that all paperwork is in order before finalizing the sale. This includes signing all necessary documents and transferring ownership of the car. 
Exotic Auto Luxury Car Buyers
Exotic Auto Luxury Car Buyers is an excellent option for selling your car online, especially Ferrari GTC. You may spend hours posting pictures of your Ferrari and gathering data on a few other details, so it's better to reach out to the dealership. We specialize in buying and selling luxury cars, including Ferraris. 
Our team of professionals can help you get the best price for your Ferrari models, whether the Ferrari Testarossa model, Enzo Ferrari, Scuderia Ferrari, or Ferrari California; we have a wide range of inventory of all. We also provide expert advice on how to market it effectively. We also help to arrange to finance and take care of all paperwork associated with the sale. Contact us today for more information about selling your Ferrari GTC!