Are you looking to sell your Ferrari 458? If so, you've come to the right place. Selling a used and new car can be an overwhelming experience, but with the right resources, knowledge, and guidance, it doesn't have to be. Here, we'll discuss all the necessary steps for selling your Ferrari 458, from determining its value to finding a buyer and finalizing the sale.
Preparing To Sell My Ferrari
If you're looking to sell your Ferrari 458, there are actions you can take to ensure the purchase process goes smoothly.
Clean The SuperCar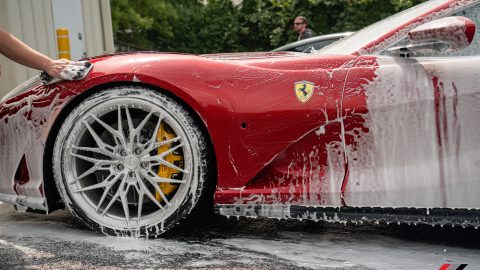 Before putting your Ferrari 458 up for sale, it's essential to clean it inside and out thoroughly. This means wiping down all surfaces, vacuuming and shampooing the carpets, cleaning the windows and mirrors, and giving the exterior a wash and wax. A clean car is more appealing to potential buyers, showing the world that you have cared for your car and taken pride in its appearance.
Get All The Paperwork In Order
When selling a car, you'll need to provide the buyer with various paperwork. This includes the title, registration papers, proof of ownership, service records, and any other documents related to the car. Make sure everything is up-to-date and organized before listing your Ferrari for sale. You should gather all relevant documentation and any other paperwork that pertains to your Ferrari 458. This documentation will provide prospective buyers with the car's history and help establish its value.
Determine A Selling Price
To determine the appropriate selling price for your Ferrari 458, you should research the luxury car market. When pricing your Ferrari 458 for sale, it's important to consider more than just the market value of similar exotic cars. Factors such as mileage, condition, and features can also affect the price. Consider the current condition of your dream car – a car with low mileage and good maintenance will likely be worth more than a car with higher mileage and little upkeep.
Choose A Selling Method
Several options exist for selling your Ferrari models, including selling it privately, trading it in at a dealership, or consigning it to a specialty car dealer. 
Selling Privately
Selling your Ferrari 458 Italia to a private buyer can be a great way to get the best price for your car. You'll have the freedom to advertise and set your own fair price, and you can take the time to field offers from multiple buyers. However, it does require a lot of work from you in terms of advertising, fielding inquiries, and managing offers.
Trade-In
Trading in your Ferrari 458 at a dealership may yield lower cash returns, but it is much easier and less time-consuming than selling privately. You can take advantage of the dealer's expertise to help you competitively price your car, handle paperwork, and arrange the sale.
Consignment
Consigning your Ferrari 458 to a specialty car dealer is another option. This allows you to benefit from the dealer and team's experience and resources to help you find a buyer and manage the entire process. However, there may be fees associated with this service.
How To Advertise My Ferrari 
Once you've decided how to sell your Ferrari 458 and have set a price, it's time to start advertising. Here are some suggestions for getting the word out:
Take High-Quality Photos
Taking high-quality photos of your Ferrari 458 is essential in marketing your car. You should take pictures from various angles, including the front, back, sides, and interior. High-quality photos will give potential buyers a good idea of the car's appearance and help attract more interest in your listing.
Write An Engaging Description
Your description should be informative and engaging and highlight the unique specs and benefits of your Ferrari 458. It should include details such as the car's make and model, mileage, condition, and any notable features or upgrades. An engaging description can grab the attention of potential buyers and enhance the likelihood of a sale.
Post Your Listing Online
Posting your Ferrari 458 for sale online can reach a wider audience than just placing a "For Sale" sign in the car's window. Many websites and forums are dedicated to the business of buying and selling cars, and posting your listing on multiple platforms can help increase visibility and attract more potential buyers.
Network With Other Car Enthusiasts
Networking with other car enthusiasts can help you reach a more targeted audience who may be interested in buying your Ferrari 458. You can attend car shows, join car clubs, and participate in online forums and groups to connect with potential buyers and spread the word about your car. This can help you find buyers who are willing to pay a good price for your car. 
Follow-Up With Interested Buyers
Once you've advertised your Ferrari 458, it's important to follow up with any interested buyers. Taking the time to answer questions and provide additional information can help build trust with potential buyers and increase the likelihood of a sale.
Negotiating And Closing The Sale
Once you've found a potential buyer for your Ferrari 458, it's time to negotiate and get top dollar. Here are some tips for navigating this stressful process:
Respond To Inquiries And Questions
Respond to any inquiries or questions in a timely manner to show that you are serious about selling the car. Doing so will also help build trust with potential buyers and make them more likely to commit to the sale.
Arrange For Test Drives
If buyers are interested in test driving your Ferrari 458, make sure to arrange for a safe, secure environment where the test drive can take place. It is also essential to ensure that all necessary paperwork and documentation are in order before allowing your vehicle for a test drive.
Handle Negotiations With Care
Negotiations are a crucial part of selling a car and can be a tricky process. It is important to handle them with care in order to ensure that you get the best deal for your Ferrari 458. Being willing to compromise is key; try to come up with an agreement that works for both you and the buyer. This may mean finding a middle ground on the price or offering a cash offer or incentives such as free maintenance or a warranty.
Finalize The Sale
Once both you and the buyer have agreed to the terms of the sale, it's time to finalize it. Make sure to get all necessary documentation in order and sign any contracts that may be required. You can also arrange for delivery or pick-up of the car, depending on what works best for the convenience of both parties.
The Best Buyer "Exotic Auto" For Your Luxury Car!
If you're looking to sell your luxury car quickly and conveniently, then Exotic Auto is the best choice for you. We offer competitive prices and fast payment so that you can get the best price for your Ferrari 458 sale. We can also arrange for the car to be picked up or shipped to its new home. Our experienced professionals make sure that your car is in safe hands throughout the entire selling process, and we guarantee a hassle-free experience. Contact us today to get started!