The Ferrari 812 is a masterpiece of Italian engineering, combining speed, style, and luxury in one breathtaking package. If you own a Ferrari 812, chances are you're looking for ways to sell an exotic car for the best price possible. This guides you through the selling process and helps you acquire the most out of your investment.
10 Coolest Features & Specs Of Ferrari 812, Which Makes It The Best Sports Car To Sell!
The most recent V12 Berlinetta from the Prancing Horse is the Ferrari 812, and we're here to present you with some of the information we recently discovered about the 812 Superfast.
One Of The Most Powerful Ferrari
Compared with the F12's V-12 engine, the 812's is 75 percent new and takes the driving experience to a new level. Displacing 6.5 liters, compared to the F12's 6.3 liters, the 812 is Ferrari's most powerful car yet, generating 789 horsepower and 530 lb-ft of torque. The 812 Superfast is a legitimate 200 mph car, reaching 0-62 mph in 2.9 seconds.
Excellent Exterior Styling & Design
The Ferrari design team has improved the exterior styling of the 812 significantly compared to the F12, giving it a sleeker, more muscular look that's sure to turn heads on the streets. The 812 also features active aerodynamics, with a spoiler and vents in the rear bumper that opens up depending on speed and driving conditions.
Impressive Interior Features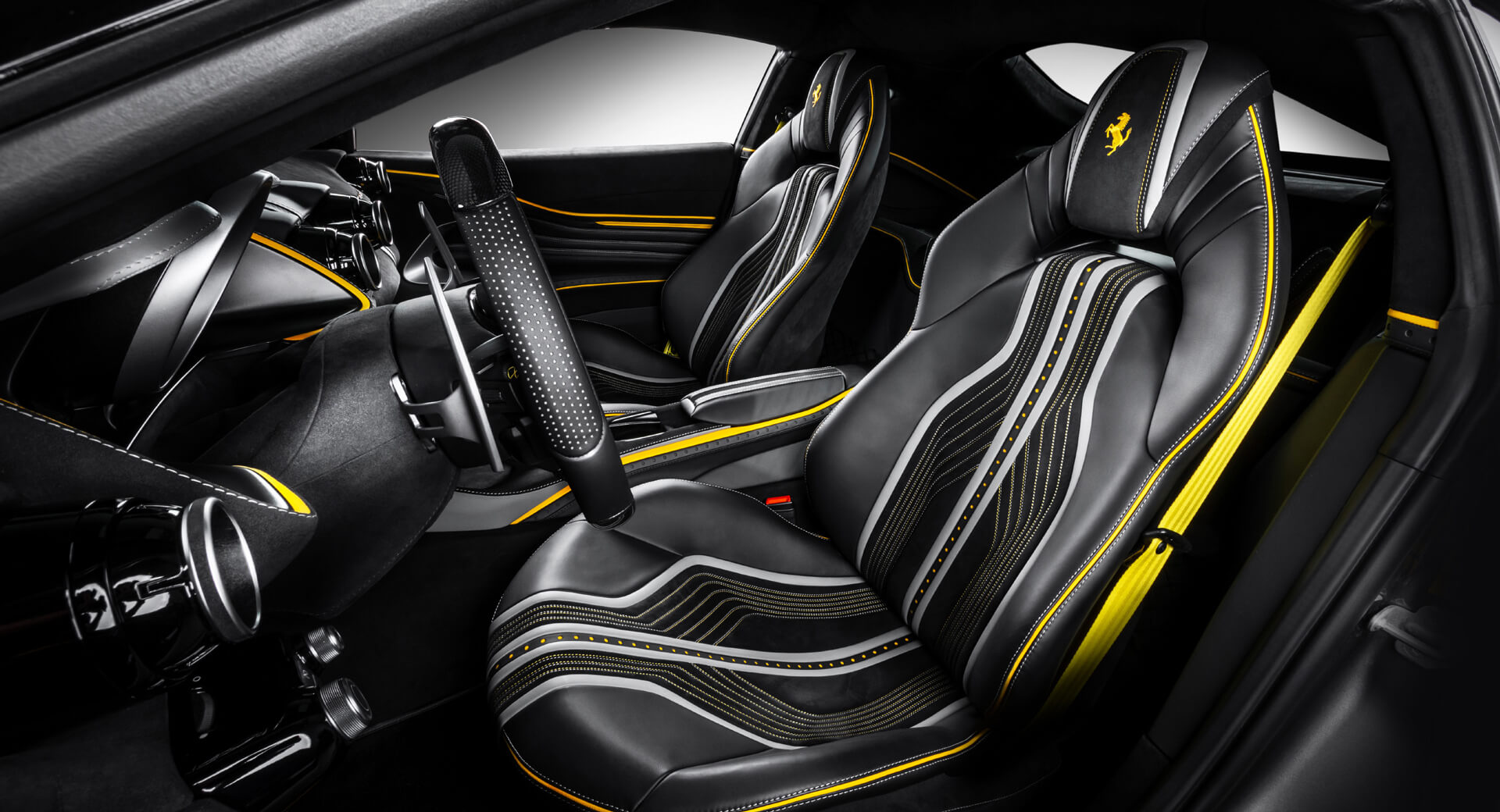 The interior of the Ferrari 812 is as luxurious as you would expect from a high-end Italian sports car. The driver-focused cockpit is lined with leather and Alcantara, with a central infotainment display surrounded by classic Ferrari switchgear.
The 812 also comes standard with the latest Ferrari's Human Machine Interface (HMI) generation, which allows you to control everything from the stereo to climate control from the steering wheel.
Fastest Road-Going Ferrari
The 812 Superfast V12 engine is an impressive feat of engineering, capable of pushing the Ferrari to an astounding peak speed of 211 mph when coupled to a 7-speed Getrag dual-clutch automatic transmission. The Superfast is the quickest road-going Ferrari ever because of its remarkable speed capabilities. It is an excellent option for speed demons.
Ferrari's First Model To Use EPS
The 812 Superfast is pioneering in its use of EPS technology, allowing drivers to experience superior control over their vehicle without sacrificing speed or performance. The EPS system is the first that Ferrari has put into a production car, making driving the 812 an even more exhilarating experience.
Performance Figures
According to Ferrari, the 812 Superfast is one of the most potent cars they've ever produced, boasting a 6.5-liter V12 engine. The 812 Superfast can reach 0-60 mph in an astonishingly fast 2.9 seconds and reach a top speed of 211 mph.
More Light In Weight
Compared to the 812 Superfast predecessor, the F12 Berlinetta, it is bigger, longer, and unexpectedly lighter. According to official measurements, the 812 Superfast is just 1,276mm in height, 1,971 mm wide, and 4,657 mm long.
Much Better Fuel Economy
The 2021 Ferrari 812 Superfast is an impressive example of engineering excellence that offers remarkable performance and fuel economy. The 812 also boasts improved active aerodynamics and lighter materials, making it more efficient than ever before. The 812 Superfast achieves an estimated fuel economy of 15 mpg city/19 mpg highway/17 combined, which is excellent for a vehicle of this caliber.
Fueled By Passion
The Ferrari 812 Superfast is undoubtedly one of the most impressive performance cars on the market today. Its power, style, and technology make it a must-have for any serious car enthusiast. The 812 Superfast is Ferrari's flagship model and is sure to be an iconic vehicle in the history of luxury sports cars. The 812 Superfast proves that Ferrari has maintained its commitment to producing vehicles with only the finest craftsmanship and attention to detail.
Introducing Special New Color
The 812 Superfast made its debut at the 2017 Geneva Motor Show, captivating the world with its unique new color: Rosso Settanta. This shade honors Ferrari's 70th anniversary and pays homage to its long and illustrious history in automobile design and engineering. The 812 also features an aerodynamic design optimized for maximum downforce and stability, further increasing its performance capabilities.
Ferrari 812 Is An All-Rounder
The 812 Superfast isn't just a powerful, stylish car; it also comes with an array of features that make it a great all-rounder. It can be configured to suit any lifestyle, and its advanced technology ensures that drivers get the most out of their vehicle. Whether you're looking for a luxurious daily driver or an adrenaline-pumping track monster, the 812 Superfast will meet your needs.
The Ferrari 812 Superfast has proven a formidable force in luxury sports cars. With its eye-catching design and remarkable power, it's no wonder why so many drivers are choosing this car as their go-to ride. From its outstanding speed capabilities to its cutting-edge technology, the 812 Superfast is a truly remarkable feat of engineering that will take any driver's breath away.
Special Editions
In 2021, Ferrari unveiled two limited-edition special series vehicles derived from the 812 Superfast: the 812 Competizione and the 812 Competizione A. These models were specifically designed to meet the needs of discerning drivers who want a superior driving experience from a luxury vehicle.
Both special editions are only 499 units each and feature exclusive liveries that pay homage to Ferrari's illustrious past. The 812 Competizione A is even further distinguished by its one-of-a-kind wheels, measuring 20″ x 9.5″ front and 21″ x 11.5″ rear with a unique diamond-finish design.
How To Ensure You Get The Best Offer For Your Ferrari 812?
The Ferrari 812 Superfast is an incredibly rare vehicle; owning one can come with a hefty price tag. At Exotic Auto, we specialize in helping drivers find the best deals on luxury cars, including Ferraris.
Here are some tips to ensure you get the best offer for your Ferrari 812:
Clean And Maintain Your Car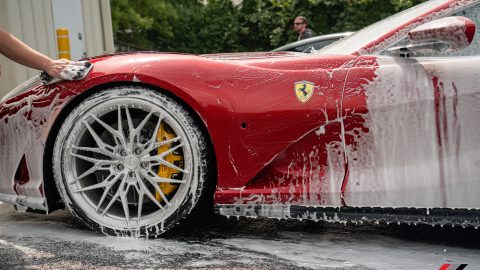 When preparing your Ferrari 812 for sale, it is important to clean the exterior and interior thoroughly. Begin by washing the outside of the car with a cleaning solution, using a soft cloth or sponge to remove dirt and grime gently. After cleaning, dry the car with an absorbent microfiber towel. Waxing is also recommended to protect the paint and keep it looking shiny. Use a vacuum and cleaning solution inside the car to remove dust and debris from all surfaces.
Gather Documentation And Service Records
When selling your 812 Superfast, ensure you have all the documentation, such as the title, registration, service records, etc. These documents will prove to potential buyers that your car is in good condition and properly maintained.
Research The Market
Researching the current market value of a Ferrari 812 Superfast can be intimidating due to the rarity and high cost of this luxury sports car. But, with careful research and preparation, drivers can get the most out of their vehicles and ensure they get a fair price from Exotic Auto.
The first factor to consider when researching the market is the condition of your vehicle. If it's in great shape, you can expect to get a higher price for it. Additionally, look into any recent sales of similar vehicles and compare prices. This will give you an idea of where your car stands in relation to other 812 Superfasts on the market.
Price Competitively
When pricing your Ferrari 812 Superfast, it is important to consider the current market value of similar vehicles. Careful research and preparation are essential to ensure you get the most out of your luxury sports car. The key is to price competitively, considering both your car's condition and current market prices.
Advertise Effectively
When it comes to selling your Ferrari 812 Superfast, advertising is vital. Create detailed listings that showcase the car's features, performance capabilities, and other advantages. You should also include photos of the exterior and inside of the car, as well as any documentation or service records that you have. Be honest and transparent in your listings, as this will give potential buyers an accurate idea of the car's condition.
Be Prepared To Negotiate
When selling your Ferrari 812 Superfast, be prepared to negotiate the price. Researching the current market value of a Ferrari 812 Superfast and comparing similarly priced models can give you an understanding of what a fair offer should look like. Additionally, consider your bottom line and the value you expect from selling your car. Negotiations can be stressful, so be sure to practice your skills before entering into a potential sale.
Sell Your Ferrari To Exotic Auto For The Best Offer!
At Exotic Auto, we specialize in helping drivers get the average price on luxury cars like Ferraris. With our experienced staff and wide range of services, you can be sure you'll get a fair offer for your used Ferrari 812 Superfast. Our sales manager are determined to provide our clients with the highest customer service for the similar cars availability. Plus, our online platform makes the entire process stress-free and efficient, no matter where you are. So don't wait – contact our dealership to get a top-dollar offer for your Ferrari 812 Superfast! Test drive today!